Like anything we talk about at UA – we always talk about lifestyle patterns as they relate to the whole person. By whole person, I mean physically, mentally, and emotionally.
Today, I am going to talk about patience, and I hope to discuss it holistically as I just mentioned.
First, let me ask: Do you have a positive or negative connotation with the word patience?
This might very well influence your perception of this blog post, but I am entrusting you to keep reading!
Second question: Can you think of a specific instance of patience or lack thereof?
I am going to share a personal example of patience that is both physical and mental. We'll get to emotional patience in a bit…
My dad, like most dads, started as my sport's coach and quickly became my life coach. For better or worse (mostly better), my dad was the head coach of my travel softball team, during my senior year of high school.
He should write a book on his opinions concerning mental toughness. However…I was a terrible hitter (but an amazing catcher…), and he needed to use every coaching phrase in the book to help me get a hit.
Wait for your pitch.
To which every player in a slump responds, "What do you meeaaan wait for my pitch!? I'll be waiting forever!"
Waiting for your pitch is an example of being mentally patient – taking conscious control of your thoughts, telling yourself that you don't need to act now.
This leads me to the part of my patience example that is physical. Something physical happens when you are mentally waiting for your pitch – as a hitter, your hands subconsciously stay back. There are physical consequences to your mental decisions. Seems simple enough!
But does it work in reverse? Can your hands stay back without first deciding that you are going to wait?
We can all relate differently to this, which is why I don't want to give you any specific examples outside of my personal story.
But lastly, we also have the power to be patient with our emotions. To stay with my softball team example, you can imagine the frustrations that might occur within any team dynamic. If everyone acted on their very first emotion to surface, it would create a rather tumultuous experience…
That first emotion is incredibly valid, however other emotions often arise when you give yourself the time.
This week, be patient with yourself, as you try to be patient – in all areas of your life!
Cheers to you.
Growing impatient to get working out? Give us a call at 215-248-2130, or send us an email at urbanathletephiladelphia@gmail.com ! 
---
How many plank exercises can you name in 30 seconds?
Star, Front, Forearm, Side, Tripod, Plank Reaches, Plank Jacks, Single-Leg, Elevated.
That was my list! What's yours? Set a timer on your phone, and let us know. Or maybe I just gave you nine plank exercises that now you can't get out of your head…(Plus two already had plank in the name!)
Planks are great, because they are universal. They can be done anytime and anyplace.
Planks can also be done by anyone. Young, old, seasoned gym goers, newcomers, and everyone in between – everyone seems to know innately how to plank. (Also note how easily I just turned plank into a verb – another cool plank trick!)
Can you remember when you were specifically taught how to do a traditional front plank?
I don't recall our middle school softball coach saying, "Okay y'all, we're going to do this crazy exercise that works our core, glutes, quads, and shoulders all at the same time. I'm going to need you to put your hands under your shoulders and straighten you legs and keep your knees off the ground and hips low."
She just told us to hold a plank, and we knew what to do!
Planks are also great, because they are scalable. They can be made more challenging or less challenging.
Is a two-arm high plank too easy? Switch to a tripod plank! Too hard – come down to your forearms.
*Disclaimer: The tricky part about planks is that you can put considerable stress on your wrists and shoulders, if you are recovering from an injury in one of those areas. No problem – maybe try a V-Sit hold to stick with an isometric movement. There are so many core exercises to be done that don't involve being on your hands!
Finally, planks are great, because they provide instant feedback to the exerciser. Maybe you've tried to see how long you can hold a plank, or for a week you decided to increase how long you held a plank daily by 30 seconds.
In both scenarios, you can tell immediately if you've reached your goal of holding a plank for three minutes, for example. It gives you, the exerciser, something tangible to work towards, as well as to celebrate!
We love planks for all these reasons – and more!
Want to plank with us? Give us a call at 215-248-2130, or send us an email at urbanathletephiladelphia@gmail.com ! 
---
You and I both have things that we just really love to do.
You and I also have things that we know are good for us to do, but they may not be what we necessarily love to do.
Everyone exercises for different reasons. For some of us, it may be because we love it. For others of us, it may be because we know exercising is good.
So what keeps us from doing something that we love to do or that we know is good for us?
With exercise, this can often mean previous or current injuries and pain.
Let me begin by saying that sometimes our bodies absolutely and 100% need rest – not only to just slow it down, but also to be given enough time and space to stop completely.
However, there is also a time and place in a group workout setting where the workout needs to be adjusted or modified to suit your body's needs.
For the remainder of this post, I'm going to stand firmly behind the belief that to modify a workout does not mean to make the workout easier. To modify a workout simply means to change it.
Whether we are in the gym or online, the format of our workouts at UA are always the same. After we demo the exercises for the workout, there is always time allotted for people to voice what their bodies are telling them that day.
Did they sleep funny? Is this their first workout back from a vacation? Do they have an old knee injury that's flared-up?
Coaches provide the clients with options for that exercise when they see it in a workout. As the rounds go on, the client feels equipped to make real time decisions. Maybe on one round they need to do Swings, instead of Vertical Jumps, but on the next round their knees feel okay to jump.
In a workout, each exercise targets a specific muscle group and joint. The amazing news (and why workouts can have so much variety) is that there are countless exercises that work your quads, some that put stress on the knees and others that do not. The same could be said for your hips, core, and shoulders.
There is always a work around, and work arounds aren't always easy.
If you'd like to learn more about how you can work out with UA while at home, please follow this link: urbanathlete.wodify.com or send us an email at urbanathletephiladelphia@gmail.com! 
---
"Are you having fun, yet?" My Dad would always (and still does) ask the cashier. The neighbor. The handyman. My old teachers. My friends. Me.
I ask this question to you, the same way my Dad asks it, with all the gentleness in the world and not an ounce of sarcasm.
Are you having fun, yet?
I've stood by my Dad when he's asked this question, and it's incredibly powerful the effect that it has on the recipient, who is 98% of the time a complete stranger.
He gets all sorts of answers:
"Always!"
"I'll be having fun when I get done work."
Sometimes they just laugh.
And my Mom just ignores him.
However, no one has ever responded to my Dad in anger or annoyance. This question has the power to change entire demeanors. Suddenly, the shift doesn't seem quite as long or the day quite as dreary.
So, I ask again – Are you having fun, yet?
What!! Fun?! NOW?!
Fun doesn't have to mean jumping up and down, and everyone certainly has their own definition. What's your definition of fun? Is there something that you can change, think about, or make happen in your day to make it fun?
My Dad says that a lot too…"Make it fun."
Cheers to having fun in the moment that you currently find yourself in and maybe asking someone if they're having fun too.
Think fun sounds like tuning into a live workout with UA? Shoot us an email at urbanathletephiladelphia@gmail.com to get more information! 
---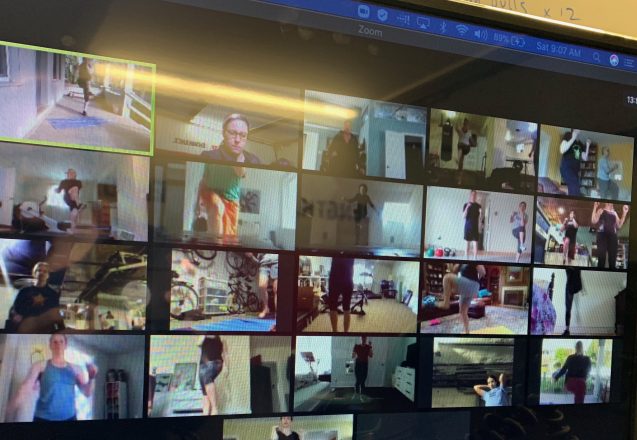 Exercise is a big component to Urban Athlete's wellness lifestyle program. While most clients might only do resistance workouts 3-5 times a week, we encourage daily movement even on the "off days". Incorporating activities like walking, mobility and original strength resets are all part of the process of being active. 
We've always offered bodyweight workouts to our clients when they are traveling so they may stay on track with their exercise program for reaching their goals. Due to recent events we are now offering a full online bodyweight exercise option as a membership option to assist the community in maintaining their health and wellness during this time. 
UA at Home Live Streaming is temporarily replacing our traditional gym membership during the Shelter in Place mandate. Our community attends dual coach-led workouts online through a virtual, live streaming platform. Coaches are teaching the bodyweight exercises and correcting form while giving modifications to make exercises either more challenging or easier based on skill set and capability. 
Virtual, live streaming bodyweight workouts are offered 11 times a week. 
Mon, Wed, Fri 7am
Mon – Sat 9am
Mon, Wed 5pm
Virtual, live streaming weighted workouts are offered 5 times a week. 
Tue, Thurs 7am
Tue, Thurs, Fri 5pm
(Once the Shelter in Place mandate has been lifted, the live streaming workouts will return to in facility workouts. There will be a brief period of overlap between the two programs as well.)
UA at Home Live Streaming also includes:
Access to a private, members only, online community
Four, Monthly Recipe Packs
Weekly accountability with check ins from a coach
Variety of members only challenges
Pre-recorded, follow along workouts for when you can't make the gym
UA at Home Live Streaming Trial $109 
Scheduled Discovery Call with an Urban Athlete Coach
Scheduled Virtual Success Session with an Urban Athlete Coach
4 Weeks of Virtual, Live Streaming Coach led Workouts begin as soon as your Success Session is complete.
UA at Home is a monthly workout pack of three pre-recorded bodyweight workouts a week for a total of 12 pre-recorded bodyweight workouts a month. Workouts are delivered weekly with a prescribed warm up. Each month the workouts are refreshed. 
Pre-recorded workouts give you the opportunity to workout on your own while not having to plan what to do for your workout on your own. UA at Home workouts also include a scalability option, which assists you with several ways to make your workouts more/less challenging. 
UA at Home Trial $74 
Scheduled Discovery Call with an Urban Athlete Coach
Your 3 pre-recorded workouts, delivered weekly for 4 weeks are accessible once your Discovery Call is complete.
If you'd like to register for either of our UA at Home Trials, please follow this link: urbanathlete.wodify.com or send us an email at urbanathletephiladelphia@gmail.com ! 
---
"After being a part of Urban Athlete, I am more motivated and more fit! The ever changing variety of workouts keeps me interested and challenged." ~Sally P.
Several weeks ago, we had a client show us an article from The New York Times, "How 'Muscle Confusion' Might Help Your Workouts." The article was a summary of a research study done with two groups of people: 
Same exercise routine each time they came into the gym 

Randomly generated exercise routine each time they came into the gym
At the end of eight weeks, researchers used ultrasound to measure the size and strength of the participants' leg muscles from both groups. The researchers hypothesized that if the group who received randomly generated exercise routines had stronger muscles, then this was evidence of muscle confusion. 
However, the researchers did not find a significant difference in physical strength between the two groups. What they did find, however, was a difference in motivation.
The group who did a different exercise routine each time they came into the gym had significantly higher motivation to continue exercising at the completion of the study.
There are a slew of factors that contribute to exercise adherence. (Hmm..Maybe we'll talk about that in a later post?) However, if workout variety is something that keeps people coming into the gym, then we can definitely control that.
Every Monday at Urban Athlete, the coaches take the time to discuss the workouts for the week. Why? Because they're different each and every day! This way, coaches can stay up to speed on the many different movement variations and patterns that we use. 
A little more time and energy creating different workouts 
= 
A lot more motivation from the clients who complete them
If you'd like to check-out the article that we referenced, please follow this link! https://www.nytimes.com/2020/01/08/well/move/muscle-confusion-exercise-workouts-fitness.html 
---
Ever walk into a gym and think, "Whoa, what's going on in here?"
You keep thinking, "How am I supposed to do all of this, when my back hurt just getting out of bed this morning…"
You're a little stressed from the morning you've had and now you're at the gym where it's supposed to be fun, right? But now it's not looking all that fun, and the idea of trying to work out like everything is okay seems pretty miserable.
So instead of walking-out, you speak-up. You need an alternative. You want to be in the gym with your friends, but the pressure to complete a workout, that your body is telling you is too much, can no longer be ignored.
Cue Restorative UA!
At the start of 2020, we launched Restorative UA, a low impact workout designed to keep people, who needed an alternative, coming into the gym. Not necessarily easier, but definitely different. In this way, Restorative UA helps to bridge the gap between physical therapy and functional fitness, or High Intensity Interval Training (HIIT).
Let's answer a few questions you may have:
Is this for me, if I haven't done physical therapy?

We say physical therapy, but insert any word to describe what has kept you from the gym or your recent health and wellness goals. This could be nagging aches or difficulty with everyday tasks, such as standing or picking-up little ones.
What is functional fitness?

Functional fitness encompasses all of the movements that we do in the gym that you also see in everyday life. For example, hip hinging in Restorative UA is bending over to get something out of the fridge at home. 
What is a low impact workout?

Exercise is a stressor on the body – an external stimulus that causes the body to adapt, or make physiological changes. A low impact workout is designed to put less stress on the body, allowing it greater time to make adjustments. 
What can I expect from a Restorative UA workout?

Every Monday and Wednesday from 11AM-12PM, you can expect gentle strength training, mobility, flexibility, and balance exercises. 
Have a few questions or want to try some FREE classes? Simply call us at 215-248-2130 or send an email to urbanathletephiladelphia@gmail.com !
---
Kids have always had an affinity for Urban Athlete. Maybe it's the stability balls, ropes, and rings that cause their eyes to light-up. Or maybe it's the open layout that adds to the charm – space where any game or obstacle course can be imagined.
At the start of the year, we launched a program that allows youth to experience this excitement in a structured class. 
The purpose of our STARS program for ages 14-18 is athletic development. STARS stands for Strong, Team focused, Agile, Resilient, and Successful – characteristics of a well-rounded athlete who is ready to take on the season. To accomplish this, we'll use speed and agility exercises, along with variations of our functional movements – squat, hip hinge, shoulder push and pull. This class is offered:
Mondays & Wednesdays from 4-5PM
We designed our Young STARS program after learning that homeschool and cyber school students needed a fun, social space to fulfill physical education and activity requirements. In preparation to one day join our STARS class, ages 8-13 will have fun with game based play that incorporates foundational, bodyweight movements. This class is offered:
Mondays & Wednesdays from 1-2:30PM
During the final two weeks of February, both of these classes are FREE! Come get a taste of what it means to be a member of Urban Athlete and meet some new friends along the way! 
To register for the STARS program, simply call us at 215-248-2130 or send an email to urbanathletephiladelphia@gmail.com ! 
---
I know there have been times in my life when I've said this.
Just as I know, there have been times in your life when you've said this too! Maybe you've even said it recently.
Unless there is some sort of underlying factor, chances are in order to have more energy you simply need four things to get you started and keep you going on the path to having more energy.
Consistent Activity
Supportive Nutrition
Quality Sleep
Better Life Balance
Don't get me wrong…None of the above are either easy right out of the gate, nor are they going to be game changers overnight. When done with purpose and consistency, you will begin to see noticeable differences in your energy levels, your mood, and likely your body composition, among other things. At Urban Athlete, we like to think about this like Lifestyle Design.
It shouldn't feel like you are making all the hard changes all at once. It shouldn't feel like you can't enjoy yourself, whether it's having a relaxing day or an indulgence of food or drink. It should feel like you make good choices the majority of the time so that when you want to treat yourself you are able to without guilt.
There is no one right path for all of us to take. There is no one right nutrition plan or exercise plan. Or waking time. Or bed time. Or career path. Or number of hours worked. (I think you get my point.) There is no simple equation that balances out to the perfect answer. Above all else there are no quick fixes. I don't write any of this to discourage you. In fact I write all this to encourage you to take the next step because change is good, and small change should feel manageable.
What is the one thing you could do today to move you closer to having more energy in your day?
Perhaps it is:
drinking more water
going to bed 15 minutes earlier
taking a walk
creating sleep specific space, free of electronics
eating a vegetable with every meal
starting a morning stretch routine
And the list can go on. Eventually we would aim to do all of these things, but for today…in this moment, pick just one thing that you can manage to start to make an impact on your own quality of life and gain some energy back. Each day keep with the same one thing, make a promise to yourself that you will stick with it. Notice I didn't say for how long…That's intentional, for now at least. The goal is to create a daily, small success that lets you believe in yourself to encourage you to do more.
As you start to master this one task and eventually more you might choose to make larger commitments like:
getting a personal trainer or joining a group training program close to home or work
scheduling your day to make sure you get at least 7 full hours of sleep each night
doing food prep 1-2 days a week for optimal nutrition even on your busiest of days
knowing when to say no to the things that aren't a priority to you
When you're able to make these larger commitments and incorporate them into your lifestyle you find you will have created a new path to walk in. One that likely feels better to you and is how you will gain more energy in the long haul, along with many other benefits.
---
Powered by WishList Member - Membership Software
[contact-form-7 id="120" title="Trial Offer"]