There are so many wonderful metaphors to be made with trees, and I am sure you've already heard quite a few.
The first metaphor to trees I heard came when I was riding a horse. (Seems accurate enough…)
My trainer told me that my core was the trunk of the tree and my arms were the branches. With a wobbly trunk, I had a tendency to stiffen my branches. I looked forced and rigid, when I needed to be fluid and effortless for the horse.
I needed a stronger base, a stronger trunk – stronger roots.
Physically, I needed to strengthen my legs and core muscles, in order to take the load off of my arms, shoulders, and neck.
What are you rooted in, physically?
Trees are smart. When the temperatures start to drop in the Fall, trees send the chlorophyll from their leaves to their trunk. Here, the chlorophyll is stored so that it can later be used for energy.
The tree receives information (cold weather) and then takes action (stores chlorophyll). It understands that its leaves must fall, in order to preserve its trunk and branches.
It can be good practice to take note of how we respond to a change in events, change in people, or even a change in temperature. The lens that we use to process information is incredibly important, because it sets us up for how we will respond. Our lens is often what is most important to us.
What are you rooted in, mentally?
Am I being too forward, when I say that we've all picked bark off a tree? We might have done this absentmindedly or purposefully – admiring how easy it was to do.
The bark is the tree's outermost protection, its first line of defense. As soon as we pick it off, all sorts of unwanted organisms are free to grow!
As humans, we might all have a different emotional protection, but we all know the feeling of when someone or something starts to pick at it. We can feel ourselves being tested and exposed, and it hurts.
However, we need this ability to feel, because it is at the root of our decision making.
What are you rooted in, emotionally?
Unlike trees, we can choose where we put our roots physically. mentally, and emotionally. We also have the freedom to decide just how strong they are.
If you'd like to learn more about how you can work out with UA while at home, please follow this link: urbanathlete.wodify.com or send us an email at urbanathletephiladelphia@gmail.com! 
---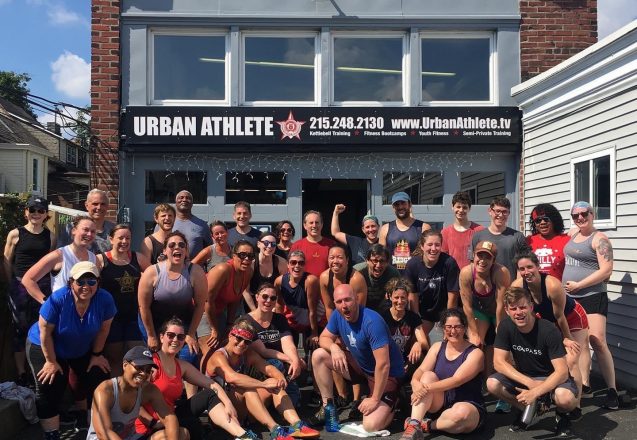 We know it's been hard to keep track of what day it is…Can you believe it's already the holiday season?
(My apologies if panic ensued…)
More like the season for holiday workouts!
This past Monday, we held our annual Memorial Day workout at 9AM with over 40 people in attendance. Some were near and others were far, but the tradition is to start all holidays with Urban Athlete.
This year was no different.
The surrounding circumstances – 100%, but the people (with a few faces added and others greatly missed) and the reason for gathering together over Zoom remained the same. We wanted a challenge and a sense of normalcy, but most importantly we wanted to be together.
The first holiday workout was Thanksgiving Day in 2006, and we've been holding holiday workouts ever since! Thanksgiving workouts are always at 8AM, so there is time to make turkey (or avoid it altogether…).
In addition to Memorial Day and Thanksgiving Day, we also hold 9AM workouts on New Year's Day, July 4th, and Labor Day. The workouts are always a little tougher, a little longer, and usually outside!
A holiday workout is extra special, because it is the only workout of the day. This means that people, who normally go to different workouts, get to spend time together! The UA community comes together every day, but holiday workouts are special for this reason.
You can always catch our crew showing their holiday spirit by wearing crazy themed socks, sweet bandanas, and possibly a tutu…
Whether we're coming together before our own holiday celebrations or dressing up in crazy (by crazy, I mean cool) outfits together, we're always coming together. And working hard – always working hard.
If you'd like to learn more about how you can work out with UA while at home, please follow this link: urbanathlete.wodify.com or send us an email at urbanathletephiladelphia@gmail.com! 
---
A Porsche goes from 0 mph to 60 mph rather quickly, whereas a Station Wagon goes from 0 mph to 60 mph rather slow…
While everyone may love a good Porsche, your body needs you to have a Station Wagon mindset when it comes to starting or returning to high-intensity exercise (i.e. 60 mph) when gyms reopen.
I don't need to tell you that our current environment has given us serious cause to think about our health. Under that umbrella of health is exercise.
We see someone jogging down the street or leading an exercise class from their front porch (me…), and peer pressure starts to settle in. We skip the part of taking an inventory of our medical conditions, injuries, and goals. Instead, we jump head first into an exercise program that was never our own.
Exercise, at its finest, is a lifelong habit. Something that you always did, so you always will do – something that you'll always find a way to do. It's chronic.
There's a phrase that gets thrown around in Kinesiology courses – "exercise adherence." This phrase asks the question, "What keeps someone exercising?"
Let's focus on one of the major factors of an exercise program that keeps you exercising, or keeps you adhering.
This factor is whether the program, routine, or goal is realistic. The exercise program you begin today, tomorrow, or at the end of the month needs to be realistic, in order for you to maintain it (i.e. to be that ever reliable Station Wagon). It is critical to your health that your exercise program is realistic for you and only you.
Begin by taking inventory of your body, like we mentioned earlier. What movements make your body hurt? Which movements do you do most often or the least? What type of exercise does your body love to do?
Making the decision to exercise? Please be like a Porsche, and make that decision pedal to the metal.
Deciding what type of exercise to partake in? Be like a Station Wagon, starting out slow and steady.
If you'd like to learn more about how you can work out with UA while at home, please follow this link: urbanathlete.wodify.com or send us an email at urbanathletephiladelphia@gmail.com! 
---
You might be familiar with the World Health Organization's (WHO) recommendation for how much water to drink daily, which is at least two liters.
You might also be familiar with how vital water is to the human body, especially as it works to fight off…well viruses.
Writing about water is exciting, because our circulatory system is so fascinating! Bear with my enthusiasm here…
Knowledge check: Water is responsible for carrying and circulating the red blood cells, white blood cells, and platelets in our blood.
We also can't talk about water and blood, without talking about the heart! Oh no…(Catch my sarcasm?)
From an exercise perspective, let's talk about why water is so important!
When we exercise, our muscles are working incredibly hard to keep our bodies moving and afloat. Consequently, they need a lot of oxygen, which helps to create energy, and they accumulate a lot of waste products.
I mentioned two important factors there:
Oxygen (Muscles need this.)
Waste/Carbon Dioxide (Muscle don't want this.)
This is where your blood comes into play! Water allows your blood to travel smoothly and quickly to working muscles, picking-up what your muscles don't want (carbon dioxide) and dropping-off what they need (oxygen).
There exists this beautiful network (I'm still excited…) of your heart, lungs, and blood vessels. This circuit exists, because water keeps your blood flowing.
Without water, your red blood cells would not make it to your lungs to pick-up oxygen and dump-off carbon dioxide. Without water, your muscles would not receive the oxygen that they need during exercise. Without water, your muscles would be forced to hold onto carbon dioxide.
I don't need to tell you that life without water would be rough!
I also don't need to tell you to drink more water, because our bodies are pretty amazing when it comes to letting us know if we're dehydrated.
Here's to staying in tune with what our bodies are telling us.
If you'd like to learn more about how you can work out with UA while at home, please follow this link: urbanathlete.wodify.com or send us an email at urbanathletephiladelphia@gmail.com! 
---
Feeling a little distracted these days? You're not the only one! There is a lot going on around us:
Increased time with some family and less time with others
Uncertainties at your workplace
Concerns with personal and global health
Lack of or change in routine 
When we find ourselves distracted, what we think about next is incredibly important.
In these moments, when your head is spinning, we suggest that you focus on fitness.
Sometimes this appears challenging to do, because we can't quite see how it relates or affects the previously mentioned distractions – your family, workplace, health, and routine. However, fitness has the power to transform each of these areas, which is why it deserves your attention.
Let's discuss how focusing on fitness can enhance the time spent with your family. Have you ever tried to talk while working out? It's incredibly challenging! We can reduce the time spent discussing unknowns in our environment, by getting to work on a variety of bodyweight workouts. This is a great way to spend time with our family, however, working out on your own will also allow you to approach family time with a clear, present mind.
To this point, focusing on fitness has profound mental benefits. The hormones released, while working out, provide a much needed boost in mood and allow us to come focused to work related tasks. When our head is clear, we have the ability to problem-solve and arrive at solutions confidently.
When we focus on fitness, we are also preparing our bodies for potential stressors, or in this case viruses. During a time when we are taking extra cleanliness precautions, be sure to also check-in with the system of muscles and bones that serve as your body's armor. We want that to be as strong as possible.
Lastly, focusing on fitness can change or even create a daily routine. Commit to a scheduled workout time, and all of a sudden you have to plan the time before and after. What time will you wake-up and eat breakfast? What time will you answer emails and spend time with your kids?
Focusing on fitness can turn a spinning mind into a calm one.
~Jennifer
---
"Are you having fun, yet?" My Dad would always (and still does) ask the cashier. The neighbor. The handyman. My old teachers. My friends. Me.
I ask this question to you, the same way my Dad asks it, with all the gentleness in the world and not an ounce of sarcasm.
Are you having fun, yet?
I've stood by my Dad when he's asked this question, and it's incredibly powerful the effect that it has on the recipient, who is 98% of the time a complete stranger.
He gets all sorts of answers:
"Always!"
"I'll be having fun when I get done work."
Sometimes they just laugh.
And my Mom just ignores him.
However, no one has ever responded to my Dad in anger or annoyance. This question has the power to change entire demeanors. Suddenly, the shift doesn't seem quite as long or the day quite as dreary.
So, I ask again – Are you having fun, yet?
What!! Fun?! NOW?!
Fun doesn't have to mean jumping up and down, and everyone certainly has their own definition. What's your definition of fun? Is there something that you can change, think about, or make happen in your day to make it fun?
My Dad says that a lot too…"Make it fun."
Cheers to having fun in the moment that you currently find yourself in and maybe asking someone if they're having fun too.
Think fun sounds like tuning into a live workout with UA? Shoot us an email at urbanathletephiladelphia@gmail.com to get more information! 
---
Let me begin by saying that it is challenging to not write a blog post that doesn't pertain to this current time! We have all had unique experiences with COVID-19, and I certainly cannot begin to speak to yours.  However, I am an expert (I like to think) on my current situation, so I'd like to highlight something that I have learned.
I think it is tempting to wish for COVID-19 to leave so that we may return to our lives.
However, we are currently faced with a unique opportunity to work within a situation.
Here are a few examples of how I work within COVID-19, rather than wish for its removal entirely!
Pick something that you love to do, and do it at the same time each day. Each morning, I have fallen into this habit of sitting at my desk that looks out the window into our yard, with a cup of coffee. Sometimes I read, sometimes I think. It sounds cheesy, but I love it! (Mostly the coffee…) What do you love to do? Hang on to that.
Choose health. Urban Athlete is special. I could have written this blog post about so many different topics, because UA takes a wholistic approach to health. Health to me has always meant listening to my body. My body tells me when I need to eat differently, sleep differently, work out differently, or think differently. When I tell this to people, they normally respond with, "Well, my body is telling me to eat ice cream!". To which I say, "Well yes, my body tells me that too."
Still focus on people. My favorite part about  being a coach at Urban Athlete is that the people are the priority. We have the privilege of offering our workouts over Zoom, but we also delight in reaching out to our clients via phone call or text message throughout the week. As a coach who lives an hour from the gym, I now feel more a part of the Urban Athlete community than I ever have. What are some ways that you have been able to keep people the priority?
Here is a question to consider ~ Have you Hope?
Hope, not only for after COVID-19, but also for during or within it?
Cheers to good health.
~ Jennifer B.
---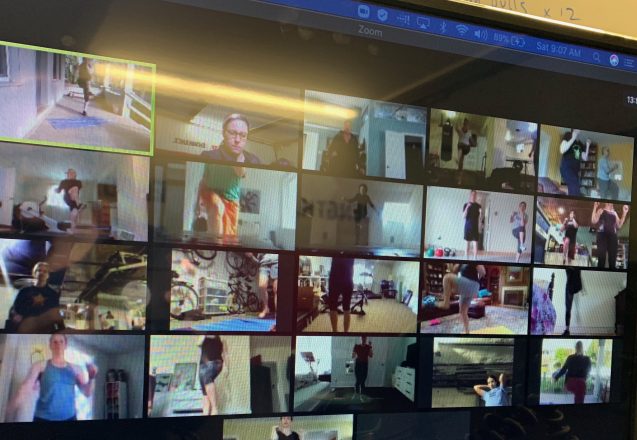 Exercise is a big component to Urban Athlete's wellness lifestyle program. While most clients might only do resistance workouts 3-5 times a week, we encourage daily movement even on the "off days". Incorporating activities like walking, mobility and original strength resets are all part of the process of being active. 
We've always offered bodyweight workouts to our clients when they are traveling so they may stay on track with their exercise program for reaching their goals. Due to recent events we are now offering a full online bodyweight exercise option as a membership option to assist the community in maintaining their health and wellness during this time. 
UA at Home Live Streaming is temporarily replacing our traditional gym membership during the Shelter in Place mandate. Our community attends dual coach-led workouts online through a virtual, live streaming platform. Coaches are teaching the bodyweight exercises and correcting form while giving modifications to make exercises either more challenging or easier based on skill set and capability. 
Virtual, live streaming bodyweight workouts are offered 11 times a week. 
Mon, Wed, Fri 7am
Mon – Sat 9am
Mon, Wed 5pm
Virtual, live streaming weighted workouts are offered 5 times a week. 
Tue, Thurs 7am
Tue, Thurs, Fri 5pm
(Once the Shelter in Place mandate has been lifted, the live streaming workouts will return to in facility workouts. There will be a brief period of overlap between the two programs as well.)
UA at Home Live Streaming also includes:
Access to a private, members only, online community
Four, Monthly Recipe Packs
Weekly accountability with check ins from a coach
Variety of members only challenges
Pre-recorded, follow along workouts for when you can't make the gym
UA at Home Live Streaming Trial $109 
Scheduled Discovery Call with an Urban Athlete Coach
Scheduled Virtual Success Session with an Urban Athlete Coach
4 Weeks of Virtual, Live Streaming Coach led Workouts begin as soon as your Success Session is complete.
UA at Home is a monthly workout pack of three pre-recorded bodyweight workouts a week for a total of 12 pre-recorded bodyweight workouts a month. Workouts are delivered weekly with a prescribed warm up. Each month the workouts are refreshed. 
Pre-recorded workouts give you the opportunity to workout on your own while not having to plan what to do for your workout on your own. UA at Home workouts also include a scalability option, which assists you with several ways to make your workouts more/less challenging. 
UA at Home Trial $74 
Scheduled Discovery Call with an Urban Athlete Coach
Your 3 pre-recorded workouts, delivered weekly for 4 weeks are accessible once your Discovery Call is complete.
If you'd like to register for either of our UA at Home Trials, please follow this link: urbanathlete.wodify.com or send us an email at urbanathletephiladelphia@gmail.com ! 
---
I believe every single one of us wants to feel empowered.
Empowered to make decisions.
Belief in oneself.
Desire to make the best decisions we can make.
Few of us (especially those reading this) start each day with the mindset of purposefully wanting to have bad, unproductive days by intentional design.
Even if I wasn't currently faced with so much uncertainty during this time, there remain a few things in life I prioritize all of the time. They either contribute to my belief system, or I find them essential to my well being. As I reflect on these priories, I see that they are also things I can control to some extent. My commitment to them can't be taken away regardless of any situation I face.
My family. I've always felt connected to family, both my biological attachments but also those I've given the title of family to (friends and our community). It's not that I don't make concessions 100% of the time but when it comes down to it, my family will always be what drives me.
My wellness. It would seem pretty foolish if exercise, nutrition and recovery weren't essential to my every day living. It builds me up, as I thrive on strength in mind and body. It also contributes to my clarity and decision making. I take care of myself because I feel better when I do, and it allows me to take care of those who are important to me. (See #1)
My surroundings. This one can get a little abstract. I like tidy spaces and everything in its place. Cluttered spaces contribute to a cluttered mind. I enjoy time with people who lift me up and challenge me to be a better person.
It's not to say there aren't variables in the above priorities. I'm also certain that I don't have this dialed in 100%. It's a constant work in progress. What I do know is that I can plan my days and weeks around these priorities and I find value in it. It helps me to be a better role model to my kids. It also assists me in being the best version of myself.
Reminding myself to focus on the things I do have control over doesn't make me feel as chaotic if I didn't. It makes me feel empowered.
What are your top priorities? I'd love to hear about them.
---
I've known Izzy for a number of years. Initially we were peers in the fitness industry but since then have become great friends. Though we live in different cities we get to see each other quite frequently, mostly over Zoom (even before social distancing) but also in person several times a year at peer group meetings, fitness business conferences and when she is visiting the east coast. About two years ago Izzy turned me on to Original Strength and like her I really fell in love with the principles. She sent her blog post to me on self-hugging last week and I immediately asked her if I could share it with all of you. Take a read and let me know what you think. Izzy is the owner of IzzyFit Personal Training and TruFit in Evanston, IL as well as a really rad person who always makes me smile!
A friend of mine let me know she hadn't had any human contact with anyone in 5 days. Not a single high five or hug… And this friend loves hugs. Needless to say she's — WE'VE — been going through lots of emotions lately and the thought of limiting our human interaction for who knows how long can feel… Well, I don't have to tell you.
We need a hug. And mental clarity. And, from what I've heard from at least three people today, we need to get the kinks out of our necks that have settled in from less-than-ideal posture.
Enter the Egg Roll, one of my favorite Original Strength moves!
I'll tell you why I love it below but if you're in a hurry to feel better, here's how you do it:
Find some space on the floor where you can move to the left and right, preferably carpeted or where you have a yoga mat
Curl your body into a ball while you place your tongue on the roof of your mouth, breathing in and out through your nose (if you're stuffy, just work on breathing any way you can)
STARTING WITH YOUR EYES, look to one side then let your head follow until the rest of your body needs to follow. 
If you have the mobility, keep on looking to see what's behind you as I demonstrate in the video
When you've gone as far as you can go, LOOK WITH YOUR EYES to the opposite direction, letting your head follow, followed by your body
You should look like an egg rolling on a counter! Get it?
You can find the how-to video here: https://youtu.be/GyoFvrP40O4 
Here are a few reasons I LOVE this movement:
If feels good. It just does.
You get to light up a lot of nerve endings as your roll your body on the floor, similar to what you get out of a hug!
It's fun! Babies roll on the floor because it's their job but adults are expected to just sit in front of a computer all day? No thanks.
By practicing leading your movements with your eyes FIRST, you get to give your neck a break. Quality head control (and posture) starts with the eyes! Master this and your neck discomfort will be a thing of the past.
Your spine gets super gentle rotation which it needs to stay healthy.
We hope you took comfort, not only in Izzy's blog post, but also in a movement (self-hugging) that has the ability to ease both your body and your mind!
~Pamela
---
Powered by WishList Member - Membership Software
[contact-form-7 id="120" title="Trial Offer"]