I believe every single one of us wants to feel empowered.
Empowered to make decisions.
Belief in oneself.
Desire to make the best decisions we can make.
Few of us (especially those reading this) start each day with the mindset of purposefully wanting to have bad, unproductive days by intentional design.
Even if I wasn't currently faced with so much uncertainty during this time, there remain a few things in life I prioritize all of the time. They either contribute to my belief system, or I find them essential to my well being. As I reflect on these priories, I see that they are also things I can control to some extent. My commitment to them can't be taken away regardless of any situation I face.
My family. I've always felt connected to family, both my biological attachments but also those I've given the title of family to (friends and our community). It's not that I don't make concessions 100% of the time but when it comes down to it, my family will always be what drives me.
My wellness. It would seem pretty foolish if exercise, nutrition and recovery weren't essential to my every day living. It builds me up, as I thrive on strength in mind and body. It also contributes to my clarity and decision making. I take care of myself because I feel better when I do, and it allows me to take care of those who are important to me. (See #1)
My surroundings. This one can get a little abstract. I like tidy spaces and everything in its place. Cluttered spaces contribute to a cluttered mind. I enjoy time with people who lift me up and challenge me to be a better person.
It's not to say there aren't variables in the above priorities. I'm also certain that I don't have this dialed in 100%. It's a constant work in progress. What I do know is that I can plan my days and weeks around these priorities and I find value in it. It helps me to be a better role model to my kids. It also assists me in being the best version of myself.
Reminding myself to focus on the things I do have control over doesn't make me feel as chaotic if I didn't. It makes me feel empowered.
What are your top priorities? I'd love to hear about them.
---
We thought we'd get a new phrase trending this week – personal scheduling.
This week, one of our coaches shared a NY Times opinion article with our team, "I Spent a Year in Space, and I Have Tips on Isolation to Share," by Sean Kelly. He used this article to share the necessity of two habits:
Make a schedule
Exercise daily
I find it interesting that this same advice was given to me last Fall, way before we found ourselves adapting to a new situation, a new world climate. (Adapting, both physically and mentally, seems like a great topic for next week!)
Let's use a work meeting to illustrate how creating a schedule affects our mental framework and how we approach the day. Every Monday at 12PM, the Urban Athlete coaches hold a team meeting over Zoom. We treat this meeting and time slot with incredible importance – so much so that its timing affects the rest of the activities in our day.
Because our meeting is at 12PM, we have our Restorative UA class at 11AM and our Young STARS class at 1PM. Hmm…lunch? Eaten during the meeting!
Speaking from experience, it is "easier" to commit to a schedule when an external force holds you responsible or someone is counting on you.
Why is it easier to attend a Zoom meeting than it is to go for a walk, or tune-in to a workout? Your company, coworkers, and CEO might be counting on you in the Zoom meeting, but your body is counting on you to exercise.
I challenge you this week to honor your workout commitment to your body. Don't reschedule or show-up five minutes late – come prepared and well rested!
A day in advance, try to schedule a specific time that you are going to be active. Once you have honored this commitment to yourself, let your day build from there. If you work out from 9AM-10AM tomorrow, what time will you eat breakfast? What time will you read a good book or spend time with your family? What time will you dedicate to resting?
The commitments you make are yours to keep!
---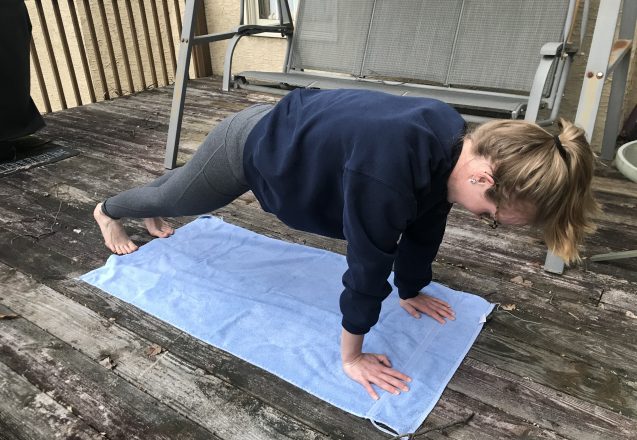 There was something about our Bodyweight Bliss workouts this week that made me feel like I was preparing for battle. Maybe this is an exaggeration, maybe it's not. But as my heart rate increased and I began to sweat doing Lateral Bounding (in the 4 feet of empty space in my bedroom…), I couldn't help but feel like I was reminding my body just how strong it was. 
Exercise protects our bodies, but it also shields our brains. As soon as I was finished working out, I had the energy and the motivation to cook a healthy dinner for my family. 
We wanted to write a blog post this week that empowered you to work out from home. We wanted to give you the freedom to start moving anywhere you find yourself – your living room, kitchen, front porch, or the four feet of empty space in your bedroom. 
It doesn't have to be anything fancy, but your body (and your brain) are counting on you to move. 
I'll organize the different movements and household items that you can use by where you find yourself in the house! 
Living room: Do you allow feet on the furniture in your house? You can do elevated hip bridges with your heels on a recliner or the couch! 
Kitchen: Use a mop or broom for shoulder dislocates! Take a wide grip on the broom, keeping your arms straight and gently travel up and behind your head.
Bedroom: Get those feet up on your bed for an elevated push-up or plank! 
Bathroom: Right now, there is currently a bucket of bleach in our bathroom, because we are about to mop the floors! In between cleaning the tub and floor, throw some RDL's in there with the bucket – but maybe first make sure that it's just full of water… 
Hallway: This is a great space to do anything that we would do while traveling in the gym – think dynamic warm-up. Walking to the bathroom? Throw some lunges in there! Ever done crossovers (think right over left) to your toothbrush? Well, now's the time! 
Front/Back Porch: Throw down a towel or yoga mat and get busy! This can be your favorite core workout or reset! 
We are here to support you, as you take this time to focus on your physical and mental well-being. Our hope is that the healthy habits you form now, during these trying weeks, would last your lifetime.
Happy moving! 
Whether you decided to try RDL's with a bucket or caught yourself lunging down the hallway, we want to see you exercising at home! Post yourself using one of the suggested home items, and tag @urbanathletephilly on either Instagram or Facebook to win 1 week of Bodyweight Bliss workouts! Don't forget to use the hashtag #uastrong ! 
---
Whether it's been at a doctor's office or in the comfort of our homes, we have all stepped on a scale at one point in time! Within seconds, a number pops up that tells us how much we weigh.
But what if we had something where not only a number popped up, but also a detailed analysis of what exactly made up that number? 
In October 2019, Urban Athlete integrated the InBody scan into our lifestyle design. The InBody is a two minute scan that uses eight electrodes to determine your body composition – skeletal muscle mass, body fat mass, and water. 
The InBody scan is well known for its reliability, or its ability to produce consistent results on consecutive scans. When pre-scan protocol is followed, the InBody removes the human error often seen in traditional body composition methods that require the use of equations. 
If you choose to use the InBody scan at Urban Athlete, here is an idea of what you can expect:
First, you will be asked to step on the scan with bare feet, with your heels aligning with the heel electrodes.

Next, you will be asked to provide your height, age, and gender. These will not affect the results, but they will be used to create normative ranges from the World Health Organization.

You will then be prompted to take the handles with electrodes designed for your thumbs.

Lastly, you will see a percentage at the bottom of the screen. Once this reads 100% (in roughly 30 seconds), you can step off the scan! 
Once the scan has been completed and printed, a coach will take the time to discuss the results with you. This is a great time to ask questions about what different measurements mean, as well as come up with a plan of action! 
As mentioned earlier, the InBody scan will break down your weight into body fat mass, lean body mass (muscle and bone), and total body water. However, the InBody scan will also provide you with a segmental lean analysis – my favorite part! This section tells you how much skeletal muscle mass you have in each limb and if it has the capability to support your body weight. You will find answers to questions, such as, "Is my lower body stronger than my upper body?"
Urban Athlete is excited to provide clients with more than just a number on a scale, and we would love to answer any questions you may have about our InBody machine! Scans are complimentary with our Urban Athlete membership and are taken every six weeks. 
Interested in having a scan, but aren't a member of Urban Athlete? Contact us at 215-248-2130 or urbanathletephiladelphia@gmail.com to set-up a time to meet! 
---
How many times have you heard a coach at Urban Athlete say, "Inhale down, exhale up"?
Probably too many times to count…
But, why do they say it? 
We all know that breathing is important! Our lungs play a critical role in our circulatory system. They release carbon dioxide, or waste from our muscles, into the atmosphere and in turn bring oxygen into our system, specifically into our bloodstream. 
Our blood transports this oxygen to our working muscles and then picks up its waste products to be released from the body. 
It is a super important system that allows our muscles to continue working.
So, why inhale down, exhale up? Why not exhale down, inhale up? 
Coaches say, "Inhale down, exhale up" during exercises where at one point the movement is working with gravity, and at another point the movement is working against gravity. 
Here are two key terms:
Eccentric – muscles are lengthing, working with gravity
Concentric – muscles are shortening, working against gravity
Think about the Romanian Deadlift (RDL), for example. At the start of the movement, you hinge at the hips with a flat back, letting gravity take the weight towards the floor. This is when "inhale down" applies, because this is the eccentric part of the movement. Next, you come out of the hip hinge – full hip extension. You are working against gravity, as your hamstrings and glutes tighten to bring you back to upright. This is "exhale up."
We breathe in during the eccentric phase, in order to prepare our muscles for the subsequent contraction. During the contraction, or concentric phase, we exhale all of the waste products that our body accumulated during the lift. 
Are you super aware of your breathing right now? I know I am!
~Jennifer B.
---
Ever walk into a gym and think, "Whoa, what's going on in here?"
You keep thinking, "How am I supposed to do all of this, when my back hurt just getting out of bed this morning…"
You're a little stressed from the morning you've had and now you're at the gym where it's supposed to be fun, right? But now it's not looking all that fun, and the idea of trying to work out like everything is okay seems pretty miserable.
So instead of walking-out, you speak-up. You need an alternative. You want to be in the gym with your friends, but the pressure to complete a workout, that your body is telling you is too much, can no longer be ignored.
Cue Restorative UA!
At the start of 2020, we launched Restorative UA, a low impact workout designed to keep people, who needed an alternative, coming into the gym. Not necessarily easier, but definitely different. In this way, Restorative UA helps to bridge the gap between physical therapy and functional fitness, or High Intensity Interval Training (HIIT).
Let's answer a few questions you may have:
Is this for me, if I haven't done physical therapy?

We say physical therapy, but insert any word to describe what has kept you from the gym or your recent health and wellness goals. This could be nagging aches or difficulty with everyday tasks, such as standing or picking-up little ones.
What is functional fitness?

Functional fitness encompasses all of the movements that we do in the gym that you also see in everyday life. For example, hip hinging in Restorative UA is bending over to get something out of the fridge at home. 
What is a low impact workout?

Exercise is a stressor on the body – an external stimulus that causes the body to adapt, or make physiological changes. A low impact workout is designed to put less stress on the body, allowing it greater time to make adjustments. 
What can I expect from a Restorative UA workout?

Every Monday and Wednesday from 11AM-12PM, you can expect gentle strength training, mobility, flexibility, and balance exercises. 
Have a few questions or want to try some FREE classes? Simply call us at 215-248-2130 or send an email to urbanathletephiladelphia@gmail.com !
---
Kids have always had an affinity for Urban Athlete. Maybe it's the stability balls, ropes, and rings that cause their eyes to light-up. Or maybe it's the open layout that adds to the charm – space where any game or obstacle course can be imagined.
At the start of the year, we launched a program that allows youth to experience this excitement in a structured class. 
The purpose of our STARS program for ages 14-18 is athletic development. STARS stands for Strong, Team focused, Agile, Resilient, and Successful – characteristics of a well-rounded athlete who is ready to take on the season. To accomplish this, we'll use speed and agility exercises, along with variations of our functional movements – squat, hip hinge, shoulder push and pull. This class is offered:
Mondays & Wednesdays from 4-5PM
We designed our Young STARS program after learning that homeschool and cyber school students needed a fun, social space to fulfill physical education and activity requirements. In preparation to one day join our STARS class, ages 8-13 will have fun with game based play that incorporates foundational, bodyweight movements. This class is offered:
Mondays & Wednesdays from 1-2:30PM
During the final two weeks of February, both of these classes are FREE! Come get a taste of what it means to be a member of Urban Athlete and meet some new friends along the way! 
To register for the STARS program, simply call us at 215-248-2130 or send an email to urbanathletephiladelphia@gmail.com ! 
---
We've started our last few blog posts by talking about rest. Why do we rest? Simply put – we rest because we're tired and crave more energy. In our bodies, energy has a name – adenosine triphosphate (ATP)! We're going to spend this blog post briefly discussing where the ATP comes from for the specific exercises that we do while at the gym. 
If you recall from last week, actin and myosin are the smallest parts of our muscle, but arguably the most important. In order to contract our muscle (think hamstrings in UA's hip hinge movements), these fibers slide past one another, but they cannot do so without ATP, or energy. They also cannot relax, or return to normal, without ATP.
ATP is incredibly necessary! 
Here is a brief overview of the three systems in our bodies that provide us with ATP. As we discuss them, keep in mind that all three systems are at work at the start of any exercise, it's just a matter of how long each system stays working, or "drops-off," if you will. 
ATP-PC (Phosphocreatine) System 
This system is the most short-lived. It supplies ATP for only about 10 seconds, so it is frequently seen in explosive movements, such as a sprint or 1RM of a squat, bench, or deadlift. ATP is formed by the energy collected from breaking down phosphocreatine. 
Glycolytic System 
This system is our main source of energy from that 10 second mark to a few minutes. Exercises that rely on the glycolytic system are still high-intensity but last longer than a sprint or 1RM. Glycolysis means the breakdown of glycogen – our storage form of glucose in our liver. Each time this system runs, we have a net gain of 2 ATP. 
Oxidative System 
We use this energy system for sustained, low-intensity exercise that lasts longer than a few minutes. This is the energy system at play when we think of endurance – such as long sessions on the rower or bike. This system generates the most ATP – 36, but at a much slower rate than the other two systems. Unlike the glycolytic system that can only use carbohydrates, the oxidative system can also use fats at the start of the reaction. 
In conclusion, ATP goes hand in hand with our nutrition. It is also the fuel that our bodies operate on, and it is the same energy that allows us to complete a workout or grab a cup of coffee. 
~Jennifer B.
---
In last week's blog post, we talked about the intentionality of rest in workouts and everyday life. This week we'll talk about muscle contraction and the reason why we rest! 
Anatomy and Physiology just happened to be my favorite class! 
Let's start from the beginning. The parts of your muscle that actually do the contracting (or shortening) are buried deep within your muscle. Try to think of the following as nested within one another. 
From largest to smallest:
Muscle 

Fascicle

Fiber

Myofibril (Actin & Myosin: the parts of your muscle that contract)
Actin and myosin are two strands that slide past one another, in order to shorten your muscle. Think about one of the largest muscle groups in your body – your quads. These small fibrils which are embedded in your muscle fibers, which are embedded in your fascicles, which are embedded in your quad muscles, are responsible for your ability to squat, run, and jump – to name a few! 
Muscle contraction is incredible, isn't it? So why do we rest? We rest, in part, because actin and myosin cannot contract repeatedly on end. We would need an endless supply of calcium and ATP (energy) to make that happen! 
Calcium makes our actin and myosin filaments ready for contraction, and ATP sets it into action! Better yet, this whole process is triggered by our brains! 
Some additional food for thought: We need ATP for both contraction and relaxation.
Want to learn more about ATP? Tune in next week for our blog post on different energy sources for different types of exercise! 
---
I know there have been times in my life when I've said this.
Just as I know, there have been times in your life when you've said this too! Maybe you've even said it recently.
Unless there is some sort of underlying factor, chances are in order to have more energy you simply need four things to get you started and keep you going on the path to having more energy.
Consistent Activity
Supportive Nutrition
Quality Sleep
Better Life Balance
Don't get me wrong…None of the above are either easy right out of the gate, nor are they going to be game changers overnight. When done with purpose and consistency, you will begin to see noticeable differences in your energy levels, your mood, and likely your body composition, among other things. At Urban Athlete, we like to think about this like Lifestyle Design.
It shouldn't feel like you are making all the hard changes all at once. It shouldn't feel like you can't enjoy yourself, whether it's having a relaxing day or an indulgence of food or drink. It should feel like you make good choices the majority of the time so that when you want to treat yourself you are able to without guilt.
There is no one right path for all of us to take. There is no one right nutrition plan or exercise plan. Or waking time. Or bed time. Or career path. Or number of hours worked. (I think you get my point.) There is no simple equation that balances out to the perfect answer. Above all else there are no quick fixes. I don't write any of this to discourage you. In fact I write all this to encourage you to take the next step because change is good, and small change should feel manageable.
What is the one thing you could do today to move you closer to having more energy in your day?
Perhaps it is:
drinking more water
going to bed 15 minutes earlier
taking a walk
creating sleep specific space, free of electronics
eating a vegetable with every meal
starting a morning stretch routine
And the list can go on. Eventually we would aim to do all of these things, but for today…in this moment, pick just one thing that you can manage to start to make an impact on your own quality of life and gain some energy back. Each day keep with the same one thing, make a promise to yourself that you will stick with it. Notice I didn't say for how long…That's intentional, for now at least. The goal is to create a daily, small success that lets you believe in yourself to encourage you to do more.
As you start to master this one task and eventually more you might choose to make larger commitments like:
getting a personal trainer or joining a group training program close to home or work
scheduling your day to make sure you get at least 7 full hours of sleep each night
doing food prep 1-2 days a week for optimal nutrition even on your busiest of days
knowing when to say no to the things that aren't a priority to you
When you're able to make these larger commitments and incorporate them into your lifestyle you find you will have created a new path to walk in. One that likely feels better to you and is how you will gain more energy in the long haul, along with many other benefits.
---
Powered by WishList Member - Membership Software
[contact-form-7 id="120" title="Trial Offer"]